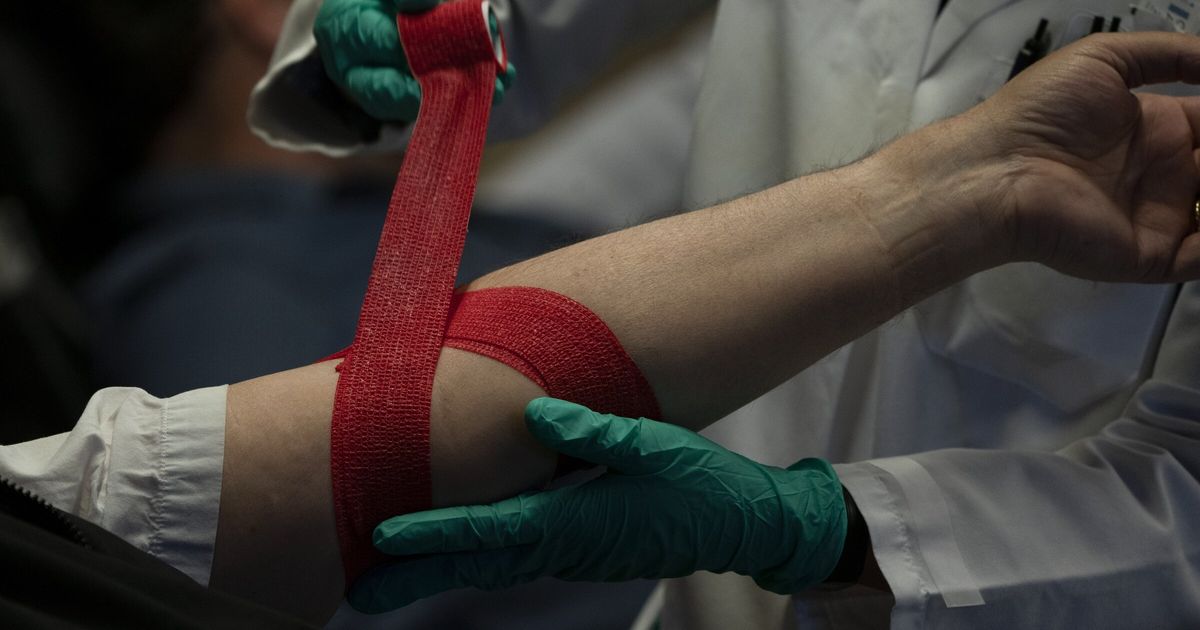 The U.S. Food and Drug Administration announced Friday its plans to ease restrictions on blood donations from gay and bisexual men, overturning a decades-long rule that LGBTQ organizations, Seattle blood banks and local public health leaders say they're thrilled to see lifted.
The FDA's proposal rolls back its restrictions on who can donate blood, eliminating the three-month abstinence requirement for men who have sex with men. It could still take up to a year for the FDA to finish its approval process and local blood banks to implement changes, but the ruling, if finalized, would allow gay and bisexual men in monogamous relationships to donate blood for the first time in decades.
Several national LGBTQ+ organizations, including the Human Rights Campaign, applauded the proposed changes Friday, after spending decades arguing the policy was unscientific and discriminatory.
"Our community has been excluded for quite some time, so this is a big step in the right direction," said Luis Viquez, an HIV/STI tester with Gay City: Seattle's LGBTQ Center in Capitol Hill.
Kelley Robinson, president of the Human Rights Campaign, also referred to the decision as an "important first step," but said "there is much more that needs to be done."
"While today's announcement is a victory, it's not the end of the road," Robinson said in a statement. "We urge the Biden administration to prioritize removing remaining barriers and ask the FDA to move expeditiously while ensuring the safety of the blood supply and a blood donation policy in-line with the science."
Under the FDA's proposal, all prospective donors would be asked about new or multiple partners as part of the screening process. Gay or bisexual men who have been monogamous in the past three months would be eligible to donate if they meet other criteria.
Those who report new or multiple partners in the past three months would be asked about a history of anal sex, the FDA said. Prospective donors who answer in the affirmative would still be deferred from donation, the agency said. The policy would also apply to women who have sex with gay or bisexual men.
Anyone who has ever tested positive for HIV would continue to be ineligible to donate blood, as well as those taking PreP medication, or pills to prevent HIV through sexual contact, would also still be barred, until three months after their last dose.
Viquez said he thought some of the FDA's still-existing rules about how many recent sex partners donors could have were "a little harsh," but that he understood the "delicate dance" between public health and inclusion.
The changes were also praised by blood donation organizations around the country, like the American Red Cross and America's Blood Centers, and local blood centers such as Bloodworks Northwest, which provides blood to more than 90 hospitals in the Pacific Northwest.
Bloodworks Northwest expects thousands of new donors, from people who weren't eligible before and from others who hadn't given blood out of solidarity with those who were ineligible. From a public health perspective, the easing of restrictions highlights the work done to promote safe sex practices, said Dr. Kirsten Alcorn, co-chief medical officer of Bloodworks Northwest.
"It takes away the notion that men who have sex with men, or the women who have sex with those men, are the only people who do safe or unsafe sex practices," she said. "Sex practices are based on individual actions, not one's group identity."
The FDA banned gay and bisexual men from donating blood beginning in the early 1980s amid the AIDS epidemic.
The ban was lifted in 2015 and instead required a one-year abstinence period before a blood donation. The abstinence period was again shortened in 2020, this time to three months, as centers reached low levels because of the COVID-19 pandemic.
Betsy Robertson, spokesperson for the Red Cross Northwest region, said she was "hopeful the FDA is moving in the right direction."
In Washington, there's still an "emergency need" for more blood donors, particularly those who are younger and willing to donate multiple times a year, the state Department of Health said in a news release this week.
Last month, Bloodworks issued a "Code Red" emergency because of its low supply.
Public Health – Seattle & King County on Friday also called attention to the region's need for more donors, while expressing support for the FDA's plan to loosen donation rules.
"The proposed policy change reflects advances in the testing technology used to screen donated blood for infectious agents and rigorous science demonstrating that currently used tests can assure the safety of the nation's blood supply," the department said in a statement. "We endorse the FDA's perspective that the overarching priority in setting blood donation policy should be the health of transfusion recipients."
It could be up to a year before the proposed changes are implemented and donors become eligible, Alcorn said. The FDA has comment and review periods, then donor questionnaires, educational materials and computer pathways will need to be updated.
"It's a lot of work, but we are happy to do it because we always want our donor criteria to be science-based and make sense medically," Alcorn said.
Information from the Associated Press and The New York Times is included in this report.
>>> ad: Don't Miss Today's BEST Amazon Deals!
Originally Appeared Here