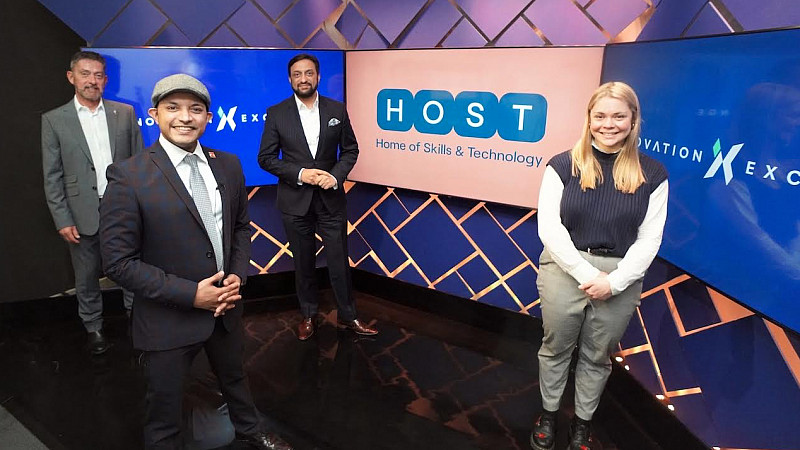 Tech knowledge sharing platform Innovation Exchange has opened a new hub at MediaCityUK in Manchester.
Via the broadcast studio in its new headquarters at HOST, the Home of Skills & Technology, it will digitally deliver masterclasses and video content. 
It will also offer the ability to run an 'Event in a Box,' from its studio with managed filming and recording, and will offer a one-day package which covers all aspects of digital event production. 
Innovation Exchange will support the acceleration of diverse talent from HOST's Skills City as well as the delivery of its bootcamp academies, HOST said. 
Entrepreneur and former Microsoft anayltics and AI lead at IBM Sherin Mathew (pictured centre left), founded AI Tech North in 2018 and launched Innovation Exchange in March 2020.
IX and AI Tech North will run a series of innovation events in partnership with HOST to further propel its AI offering.
Mo Isap, CEO of IN4.0 Group, operators of HOST (pictured centre right), said: "We are excited to welcome Innovation Exchange to HOST as its new headquarters, so we can work together in expanding the AI community in the North with an inclusive offering to Skills City's learners and organisations across the public and private sector. 
Sherin Mathew, CEO of Innovation Exchange and AI Tech North, added: "We are super excited to have our own studio at HOST, in the heart of the digital capital of the North and we would like to thank our partner HOST for making this happen!"