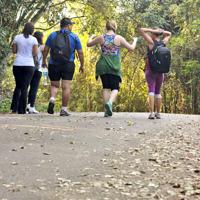 The Jackson County Department of Public Health announces a new Healthy Living Support Group. This support group is intended to offer a safe space to process feelings and experiences of individuals striving to implement healthy habits.
The group will offer educational and supportive strategies to assist in living a healthy lifestyle, but is not intended to diagnose, treat or provide healthcare for any specific medical condition.
This group will be facilitated by Ruhamah Caulkins, RD, MHS. The facilitator and participants will address topics such as healthy meal planning, physical activity, stress management, healthy coping skills and other topics of interest to the participants.
There are many benefits to attending a support group. Participants will have the opportunity to learn coping strategies to deal with the challenges of implementing healthy lifestyle changes. Individuals can grow personally through shared experiences.
Support groups offer the accountability some find helpful in sticking to their personal goals. This experience will give participants time to focus on self-care. Also, as society is gradually coming out of the pandemic, support groups can help participants feel less isolated. 
The group will begin meeting monthly on the first Fridays of the month beginning this Friday from noon until 1 p.m. There is no cost for attending the group. However, participants will need to register by calling 587-8245.
>>> ad: Don't Miss Today's BEST Amazon Deals!
Originally Appeared Here