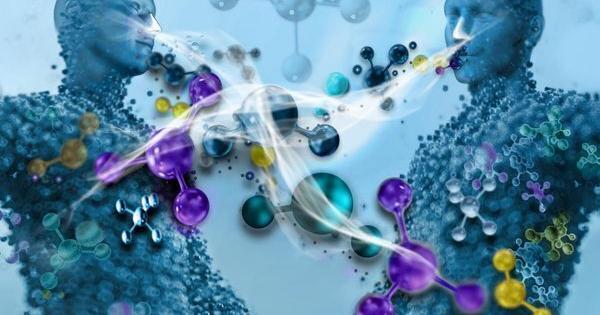 Similar body odors may draw folks together
You and your best friend may have your noses to thank in helping bring you together, a new study suggests.
Researchers found that pairs of friends who'd just "clicked" upon meeting tended to smell more alike, compared to random pairs of strangers. What's more, a high-tech electronic nose was able to predict, based on body odor, which strangers would hit it off during their first interaction.
The study was small, involving 20 pairs of "click" friends, but experts said it points to a simple fact: Sniffing is not only the realm of dogs, and humans do unconsciously use it in social interaction.
That's not to say people choose a lifelong bestie based on scent.
Women may be more susceptible than men to long COVID
Women are far more likely than men to suffer from long COVID, according to a broad new research review.
People are also reading…
The review, published June 21 in the journal Current Medical Research and Opinion, included 1.3 million patients, and revealed women were 22% more likely to develop persistent symptoms after a COVID infection.
For women, lingering symptoms after a COVID infection included fatigue; ear, nose and throat issues; as well as mood disorders like depression. They also had respiratory symptoms, and neurological, skin, gastrointestinal and rheumatic disorders.
In contrast, men with long COVID were more likely to have endocrine disorders, including diabetes and kidney issues.
As heat waves continue, experts urge steps to stay safe
As a weekend heat wave that put more than 15 million Americans in the Northern and Central Plains on alert slowly moves east, the nation's emergency doctors have advice to keep you safe.
"Overexposure to the sun or heat can turn into an emergency faster than most people expect," said Dr. Gillian Schmitz, president of the American College of Emergency Physicians (ACEP). By Tuesday, the heat dome is expected to shift to the Great Lakes and the Ohio and Tennessee Valleys, and then into the southeast by Wednesday, The New York Times reported.
Schmitz said Americans can enjoy the summer and avoid the emergency department by taking precautions against heat-related illness and knowing the signs of an emergency.
If you can stand on one leg for ten seconds, you might live longer
It sounds easy, but standing on one leg for 10 seconds can be harder than you think.
And your ability to do so — or not — may predict whether you are more likely to die within the next decade, a new study suggests. That's why an international team of researchers says the 10-second test should be part of routine health checks for all middle-aged and older adults.
"[It] provides rapid and objective feedback for the patient and health professionals regarding static balance," the researchers said, adding that the test adds useful information regarding a patient's risk of premature death.
Dr. Claudio Araujo of the Exercise Medicine Clinic in Rio de Janeiro led the study.
Breast cancer may spread faster at night
When breast cancer patients sleep, tumor cells may "awaken" and spread through the bloodstream, a surprising study out of Switzerland reveals.
Circulating cancer cells that later form new growths (metastases) do not arise continuously as previously assumed, according to researchers at ETH Zurich, the University Hospital Basel and the University of Basel.
"When the affected person is asleep, the tumor awakens," said study leader Nicola Aceto, a professor of molecular oncology at ETH Zurich.
Tampons are in short supply across the U.S.
Women aren't imagining it as they view near-empty store shelves: Global supply chain issues have prompted a shortage of tampons.
Reports on social media of shortages were confirmed this week by the on-demand grocery delivery service, Instacart, as searches for tampons rose 13% over last week.
At the same time, the ability of Instacart's shoppers to fill orders dropped 67%, the lowest since the pandemic began, CNN Business reported. Moreover, shoppers looking to hoard tampons have sent sales up 29% week over week.
***
Get more health news here:
Caffeine isn't for everyone. Try these caffeine-free options instead that will still kick start your day, without kicking your head in! Buzz60…
Veuer's Elizabeth Keatinge tells us when you should use credit over cash.
It can be very disheartening when you spend time and money trying to create a beautiful garden but half of your plants end up dying. Well here…
Follow these tips to tackle the conversation with your potentially less flexible boss. Veuer's Chloe Hurst has the story!
You might think these things are true about flying, but they are not. Buzz60's Keri Lumm has more.
Why you should protect your child's eyes, especially in the summer heat. Veuer's Chloe Hurst has the story!
We bow down to dish detergent's grease-fighting capabilities on the regular but that doesn't mean it's the end all be all! Buzz60's Maria Merc…
Calcium, the most abundant mineral in the body, is essential for performing a wide variety of functions.
This is how much your credit score drops after missing a payment. PennyGems's Natasha Abellard has the story.
As summer heats up, everyone, especially parents of young children, should read up on water safety. Even the color of your child's swimsuit co…
Sign up here to get the latest health & fitness updates in your inbox every week!
>>> ad: Don't Miss Today's BEST Amazon Deals!
Originally Appeared Here