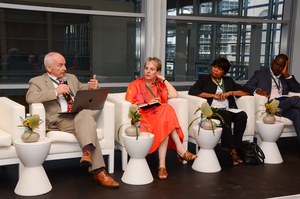 image: Left to right: Prof Jean-Claude Burgelman, Dr Heide Hackmann, (moderator, University of Pretoria), Ms Ellen R. Tise, Dr Dr Tshiamo Motshegwa
view more 
Credit: World Science Forum
Inaugurated in 2003, the World Science Forum series fosters and maintains a dialogue between the scientific community, society, policymakers, and industry. Arriving from over 100 countries, around a thousand leading scientists, decision-makers from the world of politics, industry, representatives of civil society, and the media express their views on the new challenges facing science in the 21st century.  
In December, the World Science Forum 2022 was hosted in Cape Town under the theme "Science for Social Justice". Taking place in Africa for the first time, the gathering deliberated on the social and economic relevance, influence, and responsibilities of science and covered the topics like climate change, science for human dignity, the Sustainable Development Goals, science for Africa, and science diplomacy. The list of notable speakers included, among others, the Minister of Higher Education, Science and Innovation in South Africa Dr Blade Nzimande, co-chair of the Global Young Academy Prof Roula Inglesi-Lotz, president of the Hungarian Academy of Sciences Prof Tamás Freund, president of the African Academy of Sciences Prof Felix Dakora, president of the International Science Council Sir Peter Gluckman, assistant director-general for Natural Sciences at UNESCO Dr Shamila Nair-Bedouelle, and president of Jordan's Royal Scientific Society Princess Sumaya bint El Hassan. 
Open access research publisher Frontiers saw the Forum as a befitting platform to actively advance its mission to make science open by organizing and moderating three thematic sessions as well as hosting the Delegates' Party attended by over 700 people in Cape Town. 
Organized by Frontiers Policy Labs, the thematic session "The paths to fully open access science across the Global South" offered useful insights into the challenges and opportunities that mark the transition to fully open access science for scientists, institutions, and policymakers across the Global South. The panel, represented by Frontiers Policy Labs editor-in-chief Prof Jean-Claude Burgelman, National Research Foundation AOSP director Dr Tshiamo Motshegwa and Stellenbosch University Library and Information Services senior director Ms Ellen R. Tise, discussed how scientific and civic communities across the Global South can unlock the benefits of greater access to scientific research and the breakthroughs that flow from open science.  
Another thematic session organized by Frontiers focused on the importance of equity and diversity in scientific policy advice. This session examined the role of equitable working conditions for researchers in improving the processes by which scientists can engage and provide evidence to policymakers. It took a particular look at the role of underrepresented groups such as early career researchers, women in science, and scientific voices from the global south. The speakers Prof Jean-Claude Burgelman, Africa Science Leadership Programme Director Dr Connie Nshemereirwe, researcher from Institute of Medical and Medicinal Plants Research Dr Nzweundji Justine Germo, Nature editor-in-chief Dr Magdalena Skipper , University of Cape Town Deputy Vice Chancellor Prof Sue Harrison and South African National Research Foundation Acting Group Executive Dr Aldo Stroebel concluded that providing evidence and advice to policy must not be a privilege of a few established researchers in secure positions and that equity and diversity are crucial factors in guaranteeing balanced and context-appropriate science advice. 
Commenting on Frontiers' participation at the 2022 World Science Forum, head of public affairs Stephan Kuster says, 'Our mission at Frontiers is to make science open for all.  in order to enable healthy lives on a healthy planet. We face global, existential threats. From health emergencies to climate change, we see and feel them now. When the latest knowledge is globally shared, free to read and open to all, consensus for action will be stronger and more sustainable. The World Science Forum has done a fantastic job bringing us all together to consider the influence and responsibilities of science and how to make it more equitable and more open.' 
About Frontiers    
Frontiers is the 3rd most-cited and 6th largest research publisher. We publish groundbreaking discoveries by the world's top experts. Scientists empower society and our mission is to accelerate scientific discovery by making science open. We place the researcher at the center of everything we do and enable the research community to develop the solutions we need to live healthy lives on a healthy planet. Featuring custom-built technology, artificial intelligence, and rigorous quality standards, our research articles have been viewed more than 2.3 billion times, reflecting the power of research that is open for all.    
Disclaimer: AAAS and EurekAlert! are not responsible for the accuracy of news releases posted to EurekAlert! by contributing institutions or for the use of any information through the EurekAlert system.
>>> ad: Don't Miss Today's BEST Amazon Deals!
Originally Appeared Here