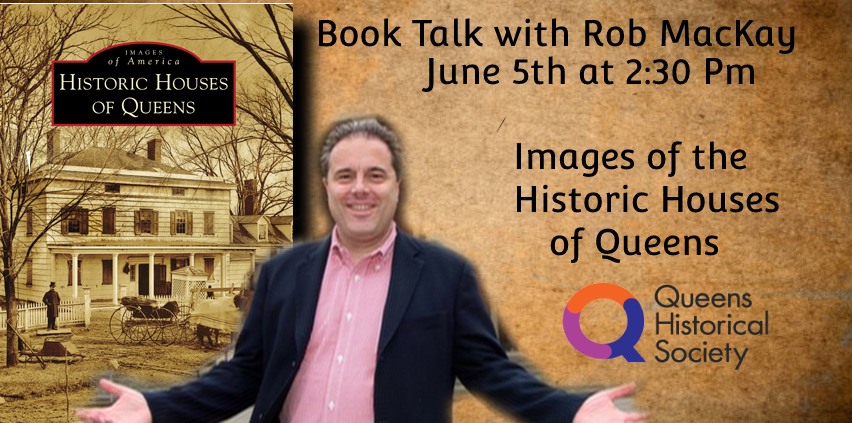 qgazette
|
on
June 03, 2021
Book Talk with Rob MacKay
Historic Houses in Queens
Date: June 5, 2021
Time: 2:30 pm – 3:30 pm
Location: Virtual program on Youtube
Price: $5 for adults; $3 for students and seniors; free for members!
Come and talk with Queens Historical Society's board member, Rob MacKay, and learn about his new book that chronicles the images of various Historic Houses here in Queens.
With 200 images and long captions, Historic Houses of Queens explores several landmarked districts and more than 50 significant residences with the oldest dating to the mid-1660s. The book looks at everything from architecture to real estate trends, to the personalities of those who called the dwellings "home."
There will be a Q and A session following an overview of the book.
Digital Visit
The Queens Flag – A Civic Symbol
Date: June 20th, 2021
Time: 2:30 pm -3:30 pm
Location: Virtual program on Zoom
Price: $3 per student

Kids interested in doing this program will get to know about the Flag of Queens, which was adopted in 1913 but has not enjoyed very much display. Most people don't even remember what it looks like! In this program, we will talk about how we can represent history, and its present culture, through vexillology: the study of flags. Using good principles of design, kids will consider what makes Queens County unique! Designs will be collectively archived by the Queens Historical Society. Perhaps your design will one day become the new Queens flag civic pride inspiring the unity of a whole borough.

*This program is a partnership with the I Love NY Path Through History Program. 
In Case You Missed It
Virtual Tour: Step into Queens
In this program, we take you on a special tour of these fascinating sites – showing you both the interior spaces full of history, as well as their charming gardens in bloom.
QHS Online Giftshop
Monthly Recommendations
*All Gift shop proceeds will help support QHS general operating expenses, as well as multilingual virtual programs. 
CLICK TO BUY: St. Albans (Images of America)
By: Claire Serant; Price: $22

St. Albans was founded in 1899. A housing boom in the 1920s and 1930s in Queens brought more residents to St. Albans. A racial covenant in Addisleigh Park threatened to keep African Americans out of the neighborhood until the federal government outlawed the practice in 1948. Over time, many African American jazz musicians and entertainers along with middle and working-class families have called St. Albans home. Today, it is a predominantly middle-class African American and Caribbean American neighborhood that continues to embrace its ambitious past through strong connections to business, civic, political, and religious groups.
CLICK TO BUY: Flushing 1880-1935
By: James Driscoll; Price: $20

In 1645, English immigrants settled in Vlissingen, an area of Queens now known as Flushing. After bitter disagreements with Governor Stuyvesant over the issue of religious freedom, they produced the Flushing Remonstrance, one of the first public statements defending the separation of church and state. The village of Flushing was incorporated into the larger New York City area in 1898, and the community soon became famous for its beautiful tree-lined streets, a reminder of its rich horticultural heritage. The Bowne House, the First Quaker Meetinghouse, Kingsland Homestead, Flushing Town Hall, and St. George's Church are a few of the buildings known for their architectural merit and historic significance.
>>> ad: Don't Miss Today's BEST Amazon Deals!
Originally Appeared Here