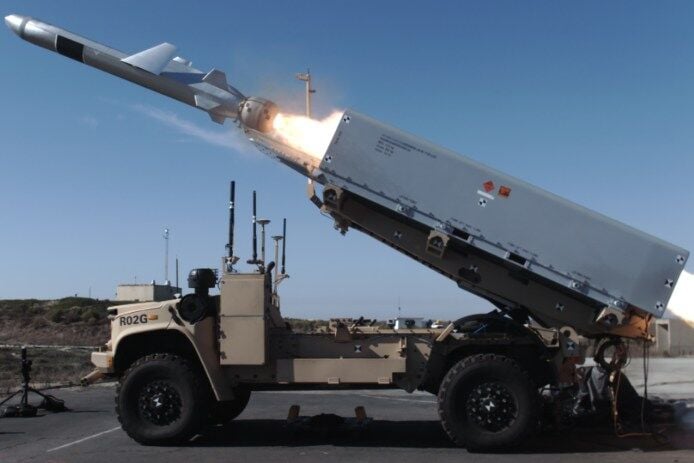 The U.S. Navy littoral combat ship USS Gabrielle Giffords launches a Naval Strike Missile during exercise Pacific Griffin near Guam in October 2019.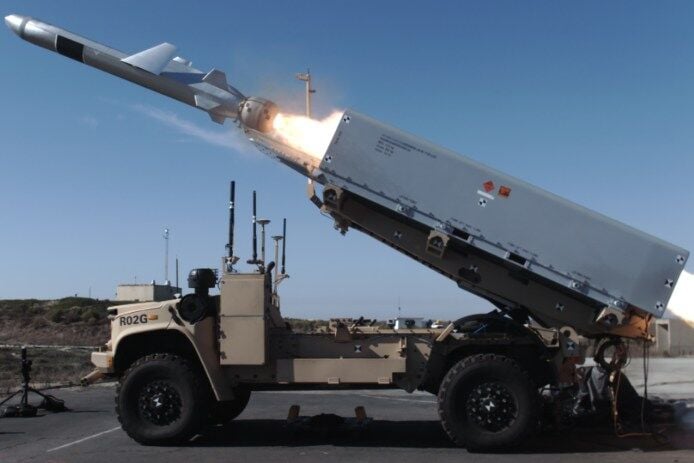 A Naval Strike Missile co-produced by Raytheon is fired from an unmanned Marine Corps truck launcher last November in the inaugural test of the Navy Marine Expeditionary Ship Interdiction System.
An anti-ship missile made by Tucson-based Raytheon Missiles & Defense and Norwegian defense contractor Kongsberg is making its way onto U.S. Navy ships and may go ashore with the Marine Corps.
The Navy is planning to mount the Naval Strike Missile on 31 of its 35 Littoral Combat Ships (LCS), a relatively new class of shallow-water defense craft, within the next 18 months, Adm. Mike Gilday told lawmakers Thursday.
The Navy also will add anti-submarine capabilities to 15 LCS vessels and a similar number will get mine-warfare capabilities, Gilday said at a virtual hearing of the House Appropriations defense subcommittee.
"In a nutshell, we're very bullish on LCS and where we're headed," Gilday said.
An effort to equip the Marines with Naval Strike Missiles as a ground-launched weapon against ships and ground targets also is advancing.
In 2018, Raytheon and Kongsberg Defence Systems won a contract worth up to $850 million over time, with $15 million initially awarded, to make Naval Strike Missiles for the Navy. Each Naval Strike Missile currently costs about $2 million, based on Pentagon budget documents.
In March 2021, the Navy announced a successful test firing of a Naval Strike missile from the LCS USS Gabrielle Giffords, named for the former Arizona congresswoman.
Originally Appeared On: https://tucson.com/business/navy-details-plan-to-deploy-new-raytheon-anti-ship-missile/article_606f85e2-a9ef-11eb-be1d-43afae02a8e0.html