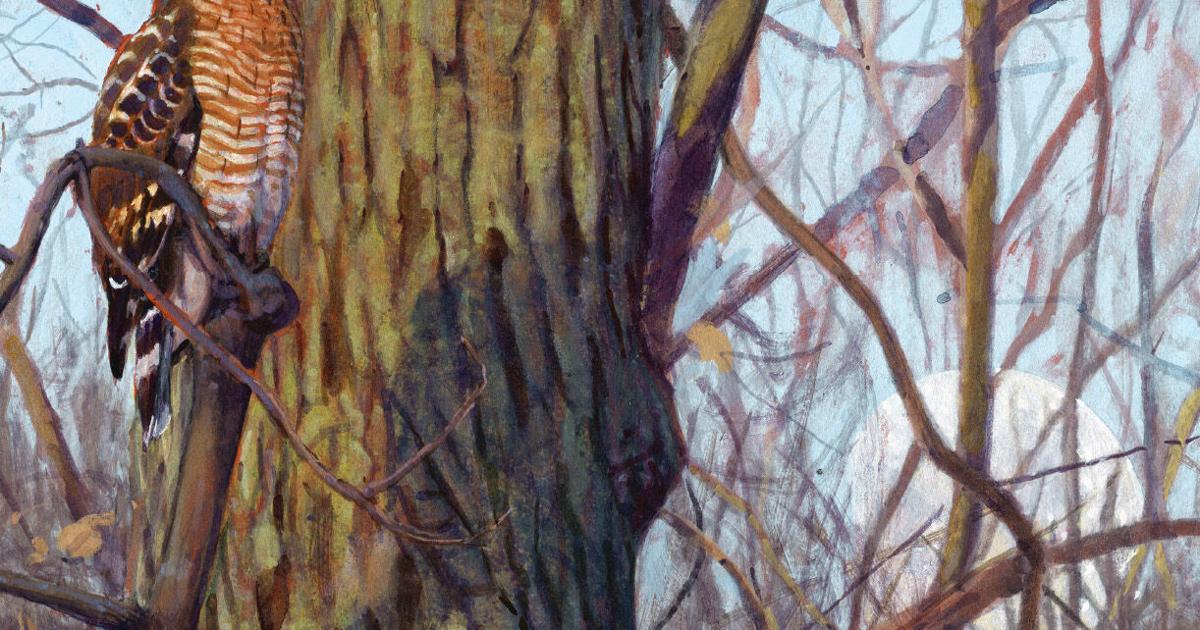 Ask Terre Haute attorney Mike Sacopulos about a defining moment in his life, and he's more likely to tell you about his days of walking in Deming Park as a 5-year-old boy than those he spent in classrooms at Harvard or in tension-filled courtrooms. For it was there and then, the memory of his hand being held and a kind voice in his ear, that he came to love birds, "A gift," he says, "that has been with me my whole life."
The friend, Susie Dewey, a half-century older and one of the most influential educators in the county, was a friend of Sacopulos' grandmother, and since young Mike's mother was seriously ill following heart surgery, the two often wandered through the park while Dewey, a life-long birder, worked her magic.
Now 53 and a long-time member of the Wabash Valley Audubon Society, Sacopulos has taken his own passion for birds a step further.
Since the summer of 2021, he is the owner and publisher of Bird Watcher's Digest, once again one of the best-known birding magazines in America. It is a venture that Sacopulos hopes will provide to others, "… a degree of the happiness and peace I have found through birds."
Founded in 1978 by Ohio publisher Bill Thompson, "BWD" was the first consumer bird-watching magazine in the country and often partnered with organizations such as the Cornell Lab of Ornithology and the Roger Tory Peterson Institute to feed a growing interest in birding across the country at a time when conservation and ecology were gaining momentum. It is estimated that today there are between 15-20 million active birdwatchers in the country.
"I was a subscriber to Bird Watcher's Digest as far back as when I was in high school [Terre Haute North Vigo Class of 1987]," Sacopulos says, "but I lost track of the magazine in recent years and didn't know it was going out of business."
After Bill Thompson III died, BWD went into decline and ceased publication in 2021. That's when Rich Luhr, the publisher of Airstream Life, and a friend of Sacopulos, asked the McKinney School of Law grad if he'd be interested in reviving the magazine with him. Mike knew it was the right thing to do, particularly when his law partner and brother, Pete, told him: "I would have never predicted this, but it seems like a great match for you."
Sacopulos adds: "That's how I feel. I never would have thought of owning a magazine, but it fits me."
Not only was BWD brought out of its death spiral — re-organized, published and managed now through Big Year LLC — Sacopulos says that the best aspects of the old magazine were kept, but that needed changes were made too. "We have tried to keep many of the columnists, and we have also kept the cover art. Each issue has a painted work of a bird. Some of the finest nature artists in the country have been featured on the magazine's cover over the years with the tradition dating back to Roger Tory Peterson and his spectacular paintings."
Mike also says the magazine's size was expanded. "It was originally the size of a Reader's Digest, but birding is a visual hobby, and we have some of the best artists and photographers available. We felt their work deserves a larger format. Because I lack any artistic ability, I stand in awe of bird painters and photographers. Julie Zickefoose is our Art Editor. She is a gifted artist and author, and is also a magnificent human. Our Editor, Jessica Vaughn, works well with the columnists to secure and present great content. The article ideas mainly come from the columnists, most of whom are professional birders and naturalists. I am very proud of the quality of the art found in our magazine."
Sacopulos also says, "We have added some exceptional younger birders and naturalists [to the staff]. Tom Johnson offers tremendous content in every issue. Although I am the publisher of BWD, I am the least knowledgeable person associated with the magazine when it comes to birds. It's my pleasure and honor to work with the leading experts."
Despite a demanding profession that can be at times "confrontational," Sacopulos says he enjoys learning medicine by representing physicians (he primarily practices heath care law), but when it comes to birds and nature, he speaks reverentially: "I think a love for nature and birds is personal. By that, I mean it comes from different places and at different times to people. Several months ago Science News published research that found seeing or hearing birds is associated with an improvement in mental well-being."
Speaking from personal experience, he adds, "Besides making people happier, many of us find a sense of wonder in birds. Knowing the hummingbird at your feeder flew nonstop across the Gulf of Mexico at roughly 60 miles an hour simply amazes me. I need a GPS to find my way around Indianapolis, but the swallows that I saw gliding around Hawthorne Park just months ago are now in Argentina. I also find a dependability in birds. My life has changed greatly over the past few years, and seeing some of the same species of birds in the same places I did as a child is oddly comforting. It offers consistency in a world of change and loss."
Proving once again, to this writer anyway, that as surprising as life can be, it can also find a comfortable rhythm, Sacopulos added, "Life seems to have a way of opening and closing doors for us. I feel lucky for the opportunity to work with people I respect on a publication that subscribers enjoy. Who would have ever thought walks in Deming Park would, years later, result in my publishing a bird magazine?"
>>> ad: Don't Miss Today's BEST Amazon Deals!
Originally Appeared Here