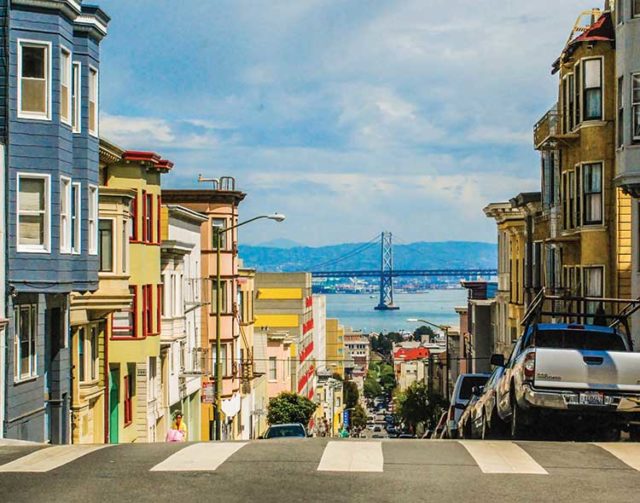 Sure, home prices in San Francisco are high, it's a seller's market with fierce competition among buyers, and single family homes are more in demand than condos. Blah-blah-blah. 
If you feel like you've read this all before, imagine how I feel. I know I've written it all before. And yet, each month I try to shed a little light on some aspects of the San Francisco residential real estate market with which you might not be familiar.
First, the contrarian view, expressed in a mid-April report by SocketSite.com. "Having hit an 11-year seasonal high last week, the net number of homes on the market in San Francisco has since ticked up another 8 percent, driven by a continued slowdown in the pace of sales along with an increase in listing activity and price reductions on the rise.
"In fact, there are now 70 percent more homes on the market than there were at this time of the year prior to the pandemic; over twice as many as there were in early April of 2015; and the most, on a seasonal basis, since 2011."
KEEP CALM
Sounds promising for buyers, doesn't it! But don't get too excited, here's the counterpoint. According to Redfin, from Jan. 1 to Feb. 15, 40 percent of the homes sold in San Francisco went for at least $100,000 over asking. The thinking is homes are currently selling at record prices and their values are only growing.
In an April market report the folks at Compass explain that while it's true San Francisco is the only Bay Area County in which the number of active listings is higher than before the pandemic, it's because of an increase in condo listings: The inventory of active single family home listings continues to run lower. 
The report says, "Sales were robust in Q1 for all property types, but the supply of house listings in particular was very low." 
Meanwhile, mortgage interest rates have skyrocketed 50 percent in 2022, as of March 31, with the biggest jump taking place in March. Still, San Francisco's real estate market seems largely unfazed by higher interest rates, volatility in financial markets, and troubling international events. 
"The prevailing dynamic remains one of strong buyer demand competing for an inadequate inventory of listings for sale," according to the Compass report. "Crowded open houses, multiple offers, fierce overbidding, and fast sales remain common."
Some buyers have been hurt by higher loan rates and declines in their stock portfolios, and some have postponed their purchase plans, but according to Compass, "not enough to move the needle on the fundamentally high-demand/low-supply conditions that dominated 2021."
AND CARRY ON
Is there any silver lining for buyers out there? Taylor Marr, Redfin's deputy chief economist, thinks there might be. He is seeing early indications that the housing market might be cooling down in some pricey coastal areas — including San Francisco. 
It's not much, but here's what he has:
To begin with, the number of Google searches for "homes for sale" dropped considerably in the second week of March for these three markets: Boston (-15 percent), San Francisco (-14 percent), and Los Angeles (-13 percent).
Next, tours of for-sale homes in California have dropped 21 percent as of March 31 from the first week of 2022. That's a major turnaround from the same timespan last year, when touring activity in California rose more than 76 percent.
Third, the number of homebuyers in San Francisco who applied for a mortgage dropped 13 percent year-over-year in February.
And finally, Marr adds, "For this time of year, the share of homes with price drops has been growing at its fastest pace in at least seven years. While price drops are still a rarity, the fact that they are quickly becoming more common tells us that sellers are reaching a limit on their ultimate control over the market as buyers reach a limit on how much they are willing to pay for a home."
Again, these are early indicators. To homebuyers, sellers, and agents, the market still feels really hot, and it may take a few months for competition to ease. Told you it wasn't much of a silver lining — but like rain for Californians, buyers will take what they can get.
One last note: The San Francisco Chronicle recently did a study that identifies 10 real estate markets on the cusp of a San Francisco-style affordability crisis — where home prices have nearly doubled in a decade, and where not enough new housing has been built to keep up with demand. 
The cities are mostly smaller, and largely rural. Three are in the state of Washington, two are in Montana, two are in Utah, one is in North Carolina, and two are in California — San Diego and Merced. 
Don't know about you, but I'm staying put.
Feedback: letters@marinatimes.com 
>>> ad: Don't Miss Today's BEST Amazon Deals!
Originally Appeared Here