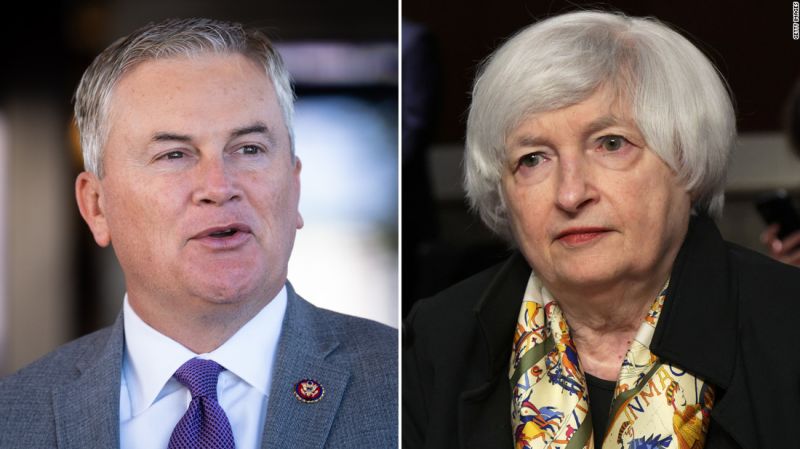 CNN
 — 
Rep. James Comer, in one of his first moves as House Oversight Chairman, is seeking information from the Treasury Department about the Biden family's financial transactions and calling on a handful of former Twitter executives to testify at a public hearing.
The new round of letters from the committee come as House Republicans are looking to flex their investigative might and make good on promises to delve into the Biden family finances and alleged political influence over technology companies after Twitter temporarily suppressed a 2020 story about Hunter Biden and his laptop.
"Now that Democrats no longer have one-party rule in Washington, oversight and accountability are coming," Comer said of his panel's investigation into Hunter Biden and the Biden family's business dealings. "This investigation is a top priority for House Republicans during the 118th Congress."
Comer requested Treasury Secretary Janet Yellen provide his panel with bank activity reports for Hunter Biden, President Biden's brother James Biden and several Biden family associates and their related companies.
"The Committee on Oversight and Accountability is investigating President Biden's involvement in his family's foreign business practices and international influence peddling schemes," Comer wrote to Yellen.
Comer tried to acquire these bank activity reports, known as Suspicious Activity Reports, repeatedly when Republicans were in the minority but was largely unsuccessful. Comer has said he has only seen two and did not reveal the source of those reports.
Comer has previously pointed to the bank activity reports – known as Suspicious Activity Reports – as evidence of potential wrongdoing by Joe Biden's family members. But such reports are not conclusive and do not necessarily indicate wrongdoing. Each year, financial institutions file millions of suspicious activity reports and few lead to law enforcement inquiries.
The White House accused Republicans of engaging in "political stunts" following Comer's request Wednesday.
"In their first week as a governing majority, House Republicans have not taken any meaningful action to address inflation and lower Americans' costs, yet they're jumping out of the gate with political stunts driven by the most extreme MAGA members of their caucus in an effort to get attention on Fox News," Ian Sams, a spokesman for the White House Counsel's office, said in a statement. "The President is going to continue focusing on the important issues the American people want their leaders to work together on, and we hope House Republicans will join him."
The Treasury Department declined to comment on Comer's request.
Comer also is seeking communications within the Treasury Department, its financial crimes enforcement division and the White House regarding those family members and related businesses and associates, all of which he wants to be returned by January 25.
The letters to former Twitter officials offer a path to Comer's investigative schedule ahead. The letters to former head of legal, policy and trust Vijaya Gadde; former head of trust and safety Yoel Roth; and former deputy general counsel James Baker call on the trio to appear in a public hearing the week of February 6. They come after Comer sent an earlier round of letters in December requesting their testimony.
"Your attendance is necessary because of your role in suppressing Americans' access to information about the Biden family on Twitter shortly before the 2020 election," each of the letters to the former Twitter employees states.
Republicans have seized on the so-called Twitter files as evidence of government censorship, although none of the messages released so far show the FBI explicitly telling Twitter to suppress a story that included material from a laptop belonging to Hunter Biden. An FBI agent at the heart of the controversy as well as several federal officials and tech executives have all denied there was any such order, CNN previously reported.
Roth, meantime, has said publicly that the Hunter Biden story appeared as though it could be the product of a hack-and-leak operation, but he has denied that he personally tried to censor the story.
"It's widely reported that I personally directed the suppression of the Hunter Biden story. That is not true. It is absolutely, unequivocally untrue," Roth told tech journalist Kara Swisher in a podcast interview last year.
Comer's demands come as both he and Judiciary Chairman Jim Jordan have vowed to investigate the federal government's influence over tech companies.
In an interview with CNN earlier this week, Comer suggested that Judiciary staff could sit in on some of his committee's interviews if there are common areas of interest, like with Twitter.
"There is some overlap but that won't be a problem for Jim and I," Comer said in the interview. "He knows who we're bringing in. We know who he's bringing in."
This story has been updated with additional developments Wednesday.
>>> ad: Don't Miss Today's BEST Amazon Deals!
Originally Appeared Here