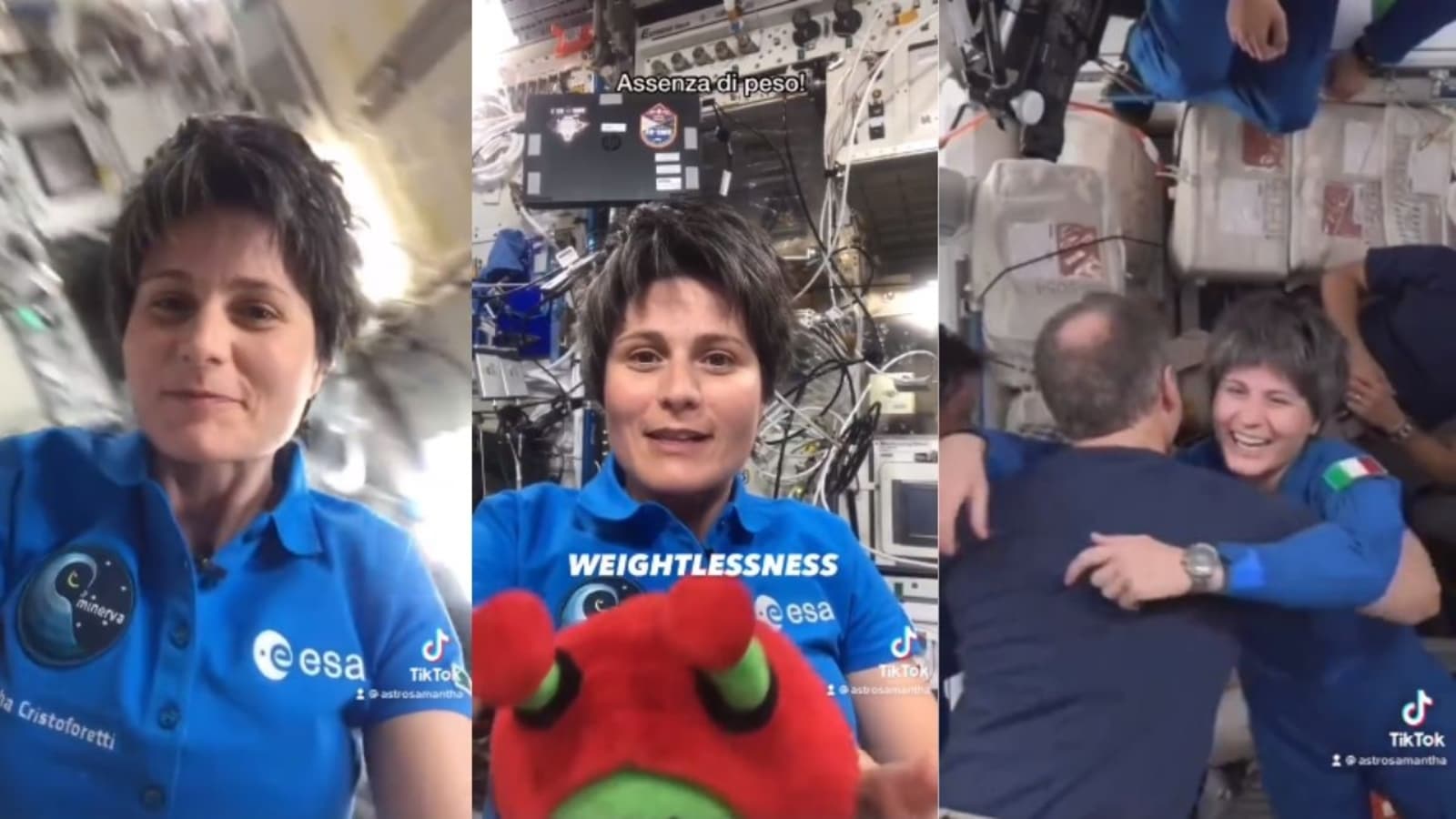 A European Space Agency's astronaut Samantha Cristoforetti has just made history! The first TikTok video from space on the International Space Station. Check all details.
Astronaut Samantha Cristoforetti of the European Space Agency (ESA) has taken the popularity of TikTok to extreme heights in the literal sense! Samantha Cristoforetti, who is part of SpaceX's Crew-4 mission, posted a TikTok video on May 5 from the International Space Station ane become the first-ever TikToker on the final frontier. The astronaut Cristoforetti arrived at the orbiting lab on April 27 for a six-month stay.
The first TikTok from the International Space Station is around 88 seconds, in which Cristoforetti takes viewers through Crew-4's launch while introducing them to the mission's two zero-g indicators and a stuffed monkey called Etta, a Space.com report mentioned. It further mentions that Cristoforetti explains in the video about Etta, which is short for 'scimmietta'. Basically, it is an Italian word for 'little monkey'. The astronaut bought this toy, Etta, for her daughter.
Also read: Looking for a smartphone? To check mobile finder click here.
Cristoforetti shared glimpses from the space station. She also said that the first few days of SpaceX's Crew-4 mission were very busy, as the Crew-4 members had to learn all possible information from the Crew-3 team as soon as possible. Crew-3 of Elon Musk's SpaceX mission had left the space station on May 5.
"What questions do you have about life on the space station? Tell me in the comments. And remember: Follow me to boldly go where no TikToker has gone before," Cristoforetti said to her the audience toward the end of the video while floating in front of one of the orbiting lab's windows.
Cristoforetti's second space flight began with the launch of Crew-4; she had previously spent time, from November 2014 to June 2015, aboard the space station. By the way, there was no TikTok back then; the platform debuted in 2016. Although the new video is a TikTok first, it is far from the first social-media post from space. Many astronauts, including Cristoforetti, use Twitter to narrate their orbital adventures in real-time.
Michael Massimino, the NASA astronaut, was the first astronaut ever to use Twitter in space. He wrote the first space tweet during the STS-125 Hubble Space Telescope servicing mission in May 2009.
>>> ad: Don't Miss Today's BEST Amazon Deals!
Originally Appeared Here