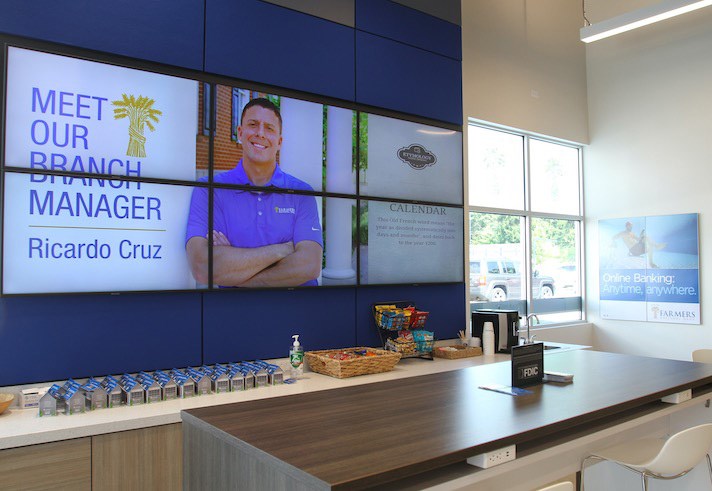 Also among today's business updates: WellNow Urgent Care; Burgan Real Estate; and AAA East Central's Gas Price Report.
CANFIELD — Farmers National Bank will open its second Lab Branch later this year.
The new branch at 5443 Whipple Ave. NW, near I-77 and the Belden Village Mall in Canton, is slated to open in the fourth quarter. It will house all of the bank's emerging technology and customer service initiatives, including Interactive Teller Machines in the lobby and drive-thru. ITM's allow customers to speak to a specialized banking associate via video conferencing.
"At Farmers, we believe in having a culture of innovation. After the successful launch of our first Lab Branch concept, we continue to place an emphasis on implementing new technologies that produce a one-of-a-kind banking experience for our customers," Kevin J. Helmick, president and CEO of Farmers, said in a news release.
The branch will offer a more relaxed atmosphere to encourage engagement between bankers and customers. Farmers National will use feedback received from customers at the Lab Branch locations in Canton and Canfield to aid in the continued rollout of its new technologies.
"When it comes to the retail banking experience, we believe the Lab Branch offers the perfect blend of digital technology and the legendary customer service Farmers is known for," Amber Wallace, executive vice president, chief retail/marketing officer, said.
WellNow Urgent Care in Niles extends hours of operation
NILES — WellNow Urgent Care, 1997 Niles-Cortland Road SE, has extended its hours of operation.
The center is now open from 8 a.m. to 8 p.m. daily.
WellNow's center in Poland, 1301 Boardman-Poland Road, will be extending its hours from 7 a.m. to 11 p.m. in the coming weeks.
"As most of us have experienced, especially if you have children, injuries and illnesses show up at the most inconvenient times," Dr. John Radford, president of WellNow Urgent Care, said in a news release. "We want to provide our patients with the care they need, when they need it, so they can get back to their lives within 45 minutes instead of waiting in an emergency room for hours or delaying treatment."
Burgan offers programs for military members, essential workers
CANFIELD — May is Military Appreciation Month, and Burgan Real Estate announced that 24 of its agents are now certified for the Military on the Move and LeadingRE Heroes programs. 
Military on the Move offers current and previous U.S. military service members rebates and/or credits on either a home sale or purchase. The program is offered to select brokerages across the country who are members of Leading Real Estate Companies of the World.
"We're proud to not only have veterans on our team but also help others who have served or who are currently serving our country," Patrick Burgan, broker and co-owner of Burgan Real Estate, said in a news release. "This program is so beneficial and can help make the decision to sell or buy easier, especially when you're working with an agent who is certified and well-versed in Military on the Move."
In order to be certified for Military on the Move, agents must complete a designated class created by Leading Real Estate Companies of the World's Military on the Move division. For more information about the program, click here.
Burgan Real Estate is also offering LeadingRE Heroes, a real estate program designed to give back to local heroes, such as physicians, nurses, teachers and first responders.
"Not all heroes wear capes, and we have been witnesses to their extraordinary efforts over the last year," Sue Filipovich, broker and co-owner of Burgan Real Estate, said. "Being able to show our appreciation by giving back to medical professionals, teachers and first responders by giving them a better option to buy or sell their home with this special rebate is a great way to remind them how important they are to the health and success of our community."
Gasoline prices decrease 4 cents in Northeast Ohio
YOUNGSTOWN — The average price for gasoline across Northeast Ohio is 4 cents lower this week at $2.81 per gallon, according to AAA East Central's Gas Price Report.
The average price for unleaded self-service gasoline in the Youngstown area is $2.81 per gallon.
— Do you have a business announcement you'd like to share? Email news@mahoningmatters.com.
Originally Appeared On: https://www.mahoningmatters.com/local-news/business-updates-farmers-national-bank-to-open-lab-branch-in-canton-3746475