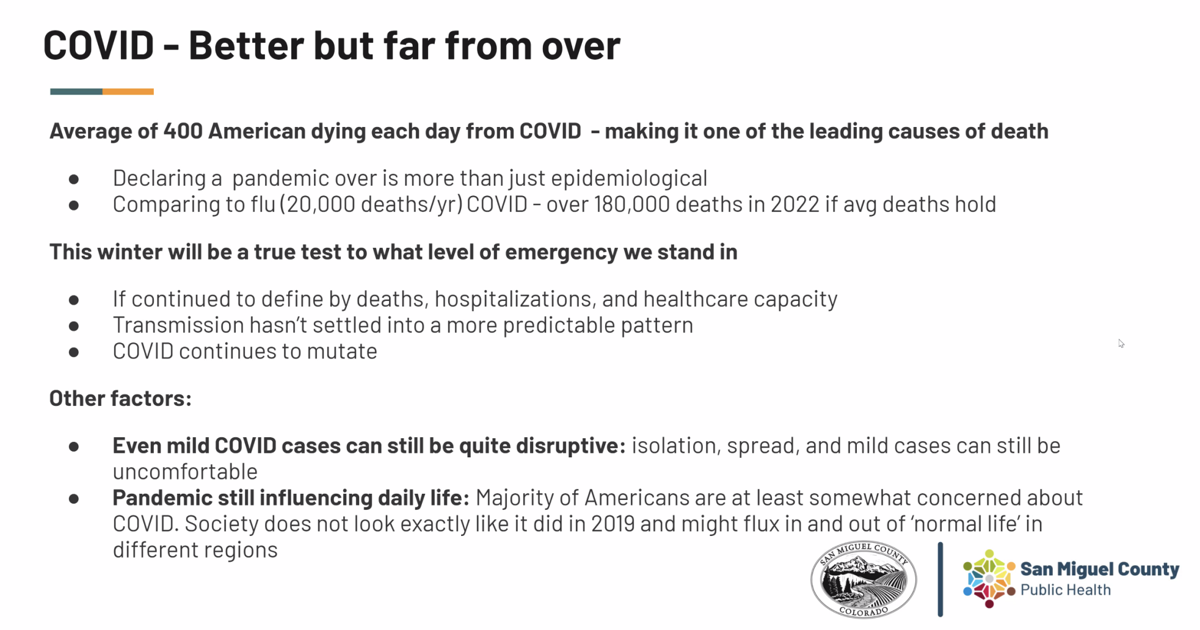 It's not grinding society to a halt anymore, as evidenced by Telluride's full slate of summer festivals and other events, but COVID-19 remains an ongoing concern for public health officials. The San Miguel Board of County Commissioners (BOCC) heard an update Wednesday from county public health director, Grace Franklin, who reminded them that COVID's presence is still diligently monitored by health officials. It is, she said, "better but far from over."
Franklin said that comparing COVID to the flu is a little cavalier.
"COVID is still one of the leading causes of death within our country, with over 400 Americans dying each day from COVID," Franklin said. "This is causing about 10 percent excess deaths a year across our nation. And I feel like we've been very fortunate here to have such good outcomes as a whole. But really, it's still very substantially impactful to both the health care systems and individual lives."
Flu deaths account an average of 20,000 deaths per year. By comparison, if COVID death rates stay on track, 180,000 people will lose their lives this year to the coronavirus. And COVID continues to mutate rapidly while transmission has yet to settle into a more predictable pattern. The winter season, Franklin said, will show just what course COVID will take next.
"Winter will be a true test of what level of emergency we need to stand in both with public health response funding, and then public engagement," she said. "Right now, we've really defined public health emergency through deaths, hospitalizations and our health care capacity. If we continue to hold on to that we know that there will be an increase of cases and potentially hospitalizations and deaths over the winter due to the amount of people moving indoors, other illnesses circulating, etcetera."
Even a mild case of COVID can be disruptive, what with the need to isolate for five days, and the loss of days at work or school. Franklin cautioned that though there is a sense of finality as the disease ebbs far from its pinnacle, its presence remains undeniable.
"A mild case can still be feverish, flu-like and then having to stay home and isolate for at least five full days or more can be really challenging," she said. "So I just want to caution that we shouldn't throw in the towel or claim victory yet."
County numbers remain low, but cases are under-reported. Few who use the still-popular rapid home tests report positive results, with figures at the Telluride Wastewater Treatment plant lead officials to conclude there is "a lot of discrepancy." The most recent sample, taken on Sept. 7, showed 247,000 COVID copies per liter, far above the one-per-day case report Franklin's department receives. In fact, with Telluride's high visitor numbers, the wastewater treatment plant findings place Telluride in the top tier of Colorado municipalities that gather that information.
Vaccines and boosters, including the new, bivalent vaccine now available, continue to be the best way to protect against severe illness and death, if infected.
"The key way to protect ourselves is to stay up to date with our boosters," Franklin said. "We now have both the Pfizer and the Moderna vaccines available here in our county."
Franklin noted that she has observed "brand loyalty" when it comes to the Moderna vaccine, a treatment that was prevalent in the county when it was first introduced. Supply train issues have made it more difficult for county officials to procure — in fact, they cannot place another order once current supplies run out — but getting a vaccine of either brand, Pfizer or Moderna, no matter which one originally administered is encouraged.
"The talking point right now is that the mix and match approach is not only acceptable, but is appropriate and recommended," Franklin said. "COVID vaccines are interchangeable across different pharmaceutical brands. And the best booster vaccine is the one that's available at the time of you receiving the vaccine. They're both really effective and really will make a difference to protect against the latest strains of the Omicron variant."
The Colorado Department of Public Health and the Environment's mobile vaccine clinic will be in town today (Thursday) at the Carhenge parking lot from 10 a.m. until 4 p.m. and will have COVID, monkeypox and flu vaccines. Walk-ins are welcome (the afternoon will be best) or appointments can be made by visiting thee county website (below).
The common flu has already reared its head. In the past couple years, flu numbers dove, a result of mask-wearing, and reduced services and testing, but now has returned in higher numbers and much earlier than usual.
"When you compare it to previous years, it does look like quite a doozy," Franklin explained. "The best way to protect against the flu season is to get the flu vaccine."
That vaccine will not only be available at today's vaccine bus by request, but also at a clinic the public health department is holding today from 2-4 p.m.
Commissioner Hilary Cooper noted that the best way to reduce the chance of infection and spreading of not only COVID, but the flu as well, is to stay home when ill.
"Add that into your messaging if it's not already there," Cooper said. "That would be great."
Visit sanmiguelcountyco.gov for complete public health information including upcoming clinics, COVID metrics and other public health news.
>>> ad: Don't Miss Today's BEST Amazon Deals!
Originally Appeared Here