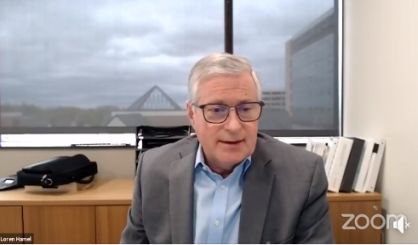 The percentage of Berrien County COVID-19 tests that come back positive is now about 12% as cases decline following a peak a few weeks ago. Berrien County Health Officer Nicki Britten said during a Tuesday COVID update the picture is looking better.
"Our hospitalization rates are decreasing, our case rates are decreasing, our deaths are definitely down," Britten said. "All of those things working together give us a good picture. I don't want people to get too hung up on a double digit percent positive rate."
However, Spectrum Health Lakeland President Loren Hamel warned COVID will be around for a while. First, he said with the extreme outbreaks in places like India, there will be more variants, and then there are those who aren't getting vaccinated. Hamel urged people to get vaccinated, saying just because deaths have slowed, that doesn't mean there's no threat.
"The folks that come to the hospital, it is not an easy journey at all," Hamel said. "They're very sick, on oxygen, some on ventilators, and some still passing away. So although we're grateful the numbers are down, it's not an easy trend for those that happen to get sick."
Hamel and Britten said their organizations are working now to get vaccines to those who weren't the early and eager adopters, but who are willing to get shots as long as it's convenient. If you want to get vaccinated, just contact the health department, Spectrum Health Lakeland, or a pharmacy. Right now, about 46% of Berrien County residents have at least one dose.
Originally Appeared On: https://www.wsjm.com/2021/05/04/berrien-health-officials-give-covid-update/