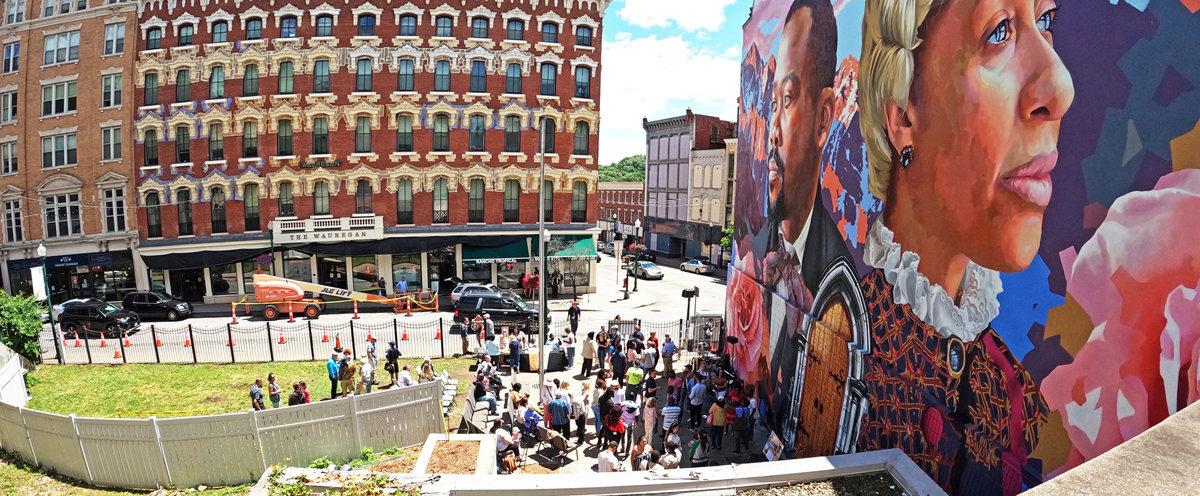 Less than one-tenth of a mile from Norwich's majestic City Hall sat a blighted courtyard, abandoned to weeds, trash and graffiti after a nearby bank left nearly a decade ago.
Saturday, during the city's traditional Juneteenth Day celebrations, the newly dedicated public space was named Jubilee Park. And Backus Hospital was recognized as the premier leader in making the transformation happen. More than 100 people gathered for the celebration, which included moving music and poetry readings.
Noting the significance of the day to celebrate freedom and positive change, Backus President Donna Handley said the hospital's involvement in the project is a sign of change, too.
The Jubilee Park Mural Unveiling and Juneteenth Celebration took place Saturday, June 18, in downtown Norwich. The mural, painted by Ben Keller, overlooks a small park that will be developed with the support of funding from Hartford HealthCare and Backus Hospital.
"Backus Hospital is a proud landmark in our city and region. But, increasingly, our work must be extend outside the building's walls. To truly heal, we must reach into our communities, participate in the work to make them healthier and safer places," Handley said. "Our mission calls us to partner with elected leaders and volunteers, community members and organizations. Just like this."
The fenced-in courtyard — neglected and easily ignored just months ago — now turns heads with its stunning mural fully covering a 50-by-70-foot wall. And soon, with work under way to make the park space safe and welcoming, it will be the site for live music events, small gatherings, health information — and just relaxation.
"We are deeply grateful to Backus Hospital ― not only for its display of generosity, but also its leaders' encouragement to move forth with this community-building activity," said Adam Bowles, pastor of the adjacent Castle Church and organizer of the project. "We have taken something broken and we are turning it into something beautiful."
With Backus Hospital's help, Bowles and other volunteers and community leaders have begun working with the Yale Urban Design Workshop to completely transform the area into a safe and welcoming public place. Jubilee Park should be completed by Spring.
You can learn more about the project HERE.
>>> ad: Don't Miss Today's BEST Amazon Deals!
Originally Appeared Here