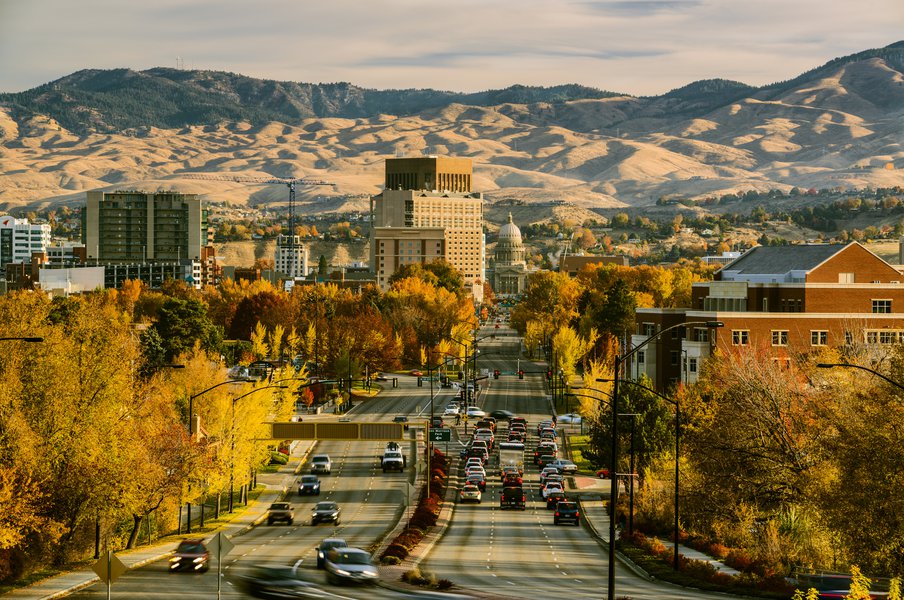 Boise, Idaho, is booming. The city, which has one of the highest appreciation rates in the country, is quickly becoming one of the hottest markets in the nation. With a stable economy, ample job opportunities, and more affordable housing prices than many of its neighboring states, Boise is becoming a popular destination for residents and investors fleeing coastal cities. Take a closer look at the local market in Boise to better understand the challenges and opportunities available to real estate investors in 2021.
What makes Boise special?
Boise, Idaho, dubbed the "City of Trees," is part of the Treasure Valley region in southwestern Idaho and home to just under 800,000 residents. It is the second-fastest growing metro in the entire country, with an inward migration rate of 3.24% in 2020. Despite being a large city with a vastly growing population, Boise still has a small-town feel with big-city amenities, including hundreds of great restaurants and bars as well as a diverse arts and culture scene. The area is a mecca for outdoor enthusiasts, with year-round activities such as skiing, golf, hiking, camping, and fishing.
Boise is home to a number of major employers and Fortune 500 companies, which has brought a younger and highly educated workforce to the area, with roughly 40% of its population aged 25 – 54. Idaho is ranked #4 of all 50 states for property tax rates with a number of tax incentives for business owners. Home prices were just below the national average for affordability, making Boise an appealing, safe, and beautiful place to work and live.
State of the market
Boise's inland location is one of the biggest appeals to residents and investors right now. After homebuyer preferences shifted as a result of the pandemic, people want more space, more air, and more land nearby as they work and live. Boise's lower real estate prices are a reprieve when compared to real estate in nearby California, Washington, or Oregon. This coupled with the higher quality of life means real estate prices are on the rise. Here are a few of the notable trends for 2021 in the Boise market.
1. Real estate prices will continue to rise
Low interest rates and a shortage of housing has driven home prices through the roof over the past year. Boise, which is also experiencing a large inward migration, is feeling even greater pressure for homes, leading to a 22.7% year-over-year increase in median home prices. This makes it one of the fastest-appreciating markets and there's no sign of slowing down. For investors, this is both a good and a tough position. Those who own properties here are benefiting from dramatic increase in value in a short period of time, but those who want to invest here are met with rising prices and fierce competition, making it challenging to find investment opportunities. The good news is values will hold, as it seems demand for the market is strong.
2. Rental demand will drive prices up
Rent prices, while still well below the national average, are rising rapidly, having seen a 10.3% year-over-year price growth. March 2021 saw a 5.2% increase in rental rates in just a single month according to a study conducted by ApartmentList.com, and a recent study dubbed Boise as the hottest rental market in the country right now. It seems there was pent-up demand for rental units as tenants stayed home during the pandemic, but as vaccinations are becoming widely available, tenants are on the hunt for a new home, and rates are soaring because of it. Landlords have huge potential in this market right now, but low inventory will make it challenging to find and snag a rental deal.
3. Inward migration will hold strong
Boise's hot rental and real estate market is being driven by certain economic factors, such as low interest rates, lack of inventory, and migration patterns related to COVID-19, but the long-term demand outside of these short-term trends is there. High-quality job opportunities and a higher quality of living means the inward migration trends are likely here to stay, which will, in turn, continue to push both rental rates and home values up.
Boise housing demand indicators
Charts courtesy of Housing Tides, an EnergyLogic company.
Here's a closer look at housing and economic indicators that give further insights into the notable trends for the Boise area.
Unemployment trends
Unemployment in Boise is low, right now around 2% less than the national average. This is a strong sentiment considering the general economic conditions across the globe and speaks volumes to the job opportunities in the market today. While rates of unemployment spiked in early 2020, rates are near pre-pandemic levels and recovering nicely.